The Cookie Corner Child Care Center
» Preschool and Daycare in Pennsylvania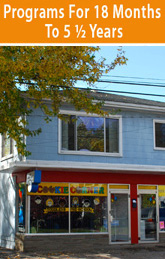 Located in West Wyoming, PA, The Cookie Corner is a child care center with a reliable staff that is always ready to offer personalized services.
Our bright and colorful rooms play host to a wide selection of interesting activities that can stimulate your child's imagination, and our children's classroom area is well stocked with learning tools and arts and crafts supplies. Our private drive is available for parents to drop-off and pick-up their children and all play areas are fenced in to provide additional safety.
Bring your child to Cookie Park where they can enjoy toy rides, a gazebo deck for shade activities and outdoor snacks. Sand and water tables add to the fun!
We offer the following childcare programs for 18 month to 5 1/2 years:
Toni Tabone, B.A., our director, encourages you to register early as openings are limited.
We are licensed by the Department of Child Welfare and the Department of Education. Interested parents should contact us for more information.
Call The Cookie Corner today at 570-693-3556 to register your child for caring and nurturing full-time or part-time child care.
» Hours
DAYCARE (Toddler & Preschool)
7:15am - 5:30pm

NURSERY SCHOOL
Morning Sessions: 9 - 11:30am
Afternoon Sessions: 1 - 3:30pm
"Promise me you'll always REMEMBER: you're BRAVER than you believe, and STRONGER than you seem, and SMARTER than you think."
-Christopher Robin to Pooh